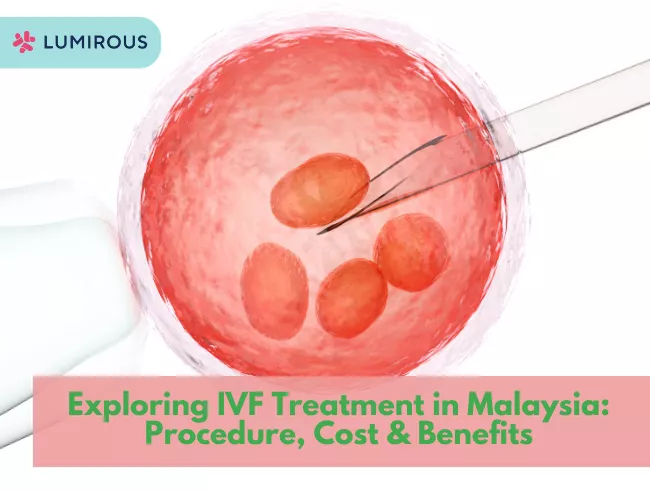 What is IVF?
IVF treatment is probably the most widely known treatment for infertility and is usually referred to as "test-tube baby". This treatment is as it sounds, the procedure starts by collecting samples of eggs and sperm. The egg will then be fertilized by the sperm in the test tube under laboratory conditions. The fertilized egg (embryo) will then be transferred to the uterus.
Why IVF?
Despite IVF reputation as the most commonly used assisted reproductive technology (ART), patients are less likely to be suggested this treatment before trying for less invasive fertility treatments. IVF will only become the primary treatment when the woman is over 40 with fertility problems or for patients with certain health conditions such as cancer or reproductive organs problems and patients with genetic disorder problems.
Treatment Timeframe
The entire procedure can be completed within three weeks or more. Similarly, the patients are advised to take the pregnancy test two weeks after the last step of the procedure is completed.
Preparation
IVF treatments involve several procedures which are done within one ovulation cycle. The procedures in order of operations are as follows:
Ovarian stimulation
Egg(s) retrieval
Sperm retrieval
Fertilization of the egg(s) by sperm in the test tube
Embryo transfers into the uterus
Cost of Treatment
The cost of IVF treatment in Malaysia is RM15,500 and can go higher than RM 50,000. This treatment is known to be costly due to the usage of hormone medication, multiple laboratory sessions and the inclusion of extra procedures such as ICSI.
Do you know, IVF falls under fertility treatment that our Employees' Provident Fund Organisation (EPF) can cover? CLICK HERE IF YOU WANNA KNOW MORE!