Alpha Fertility Centre
Table of Contents
About Alpha Fertility Centre
Located in Selangor, Alpha Fertility Centre is founded and run by a team of leading doctors and embryologists who have great achievements in fertility health, both in the region and worldwide. The specially-built fertility centre houses a full range of modern fertility facilities for in vitro fertilisation (IVF), preimplantation genetic screening (PGS), preimplantation genetic diagnosis (PGD), egg donation, egg freezing and embryo freezing procedure. Revolutionary freezing technology and artificial intelligence (AI) are used in the egg freezing and embryo freezing procedure helps enhance embryo selection, OVA - PRP and Endo PRP.
The team of fertility experts in Alpha Fertility Centre have successfully innovated numerous fertility treatment procedures which led them to achieve many firsts in the country. Apart from their outstanding achievements in Malaysia and Singapore, they have managed to achieve many world's firsts as well.
Alpha Fertility Centre has always been putting its patients and their fertility needs as its first priority. It provides tailor-made treatment programmes to each couple based on their specific needs. This has enabled its patients to fully realise their potential for parenthood.
In 2018, Alpha Fertility Centre was accorded the Frost & Sullivan Malaysia Fertility Centre Of The Year. It also won the Asia Pacific Fertility Service Provider Of The Year Awards in 2019, 2020, and 2022.
For International Patients
Alpha Fertility Centre provides the most comprehensive and wide-ranging fertility services in Asia and Australasia. Its specially-built fertility centre houses a full range of hi-tech fertility facilities for IVF treatments, PGD and PGS genetic tests, egg or embryo freezing, sperm sorting method with Microsoft®, and time lapse embryo monitory system.
With all the experts and technologies in Alpha Fertility Centre, each couple who goes to its centre will have the access to world-class treatments which optimise their chances towards parenthood.
Treatments And Services
Assisted Reproductive
Egg donation
Gamete Intrafallopian Transfer
In-Vitro Fertilisation (IVF) Treatment
Intra-Cytoplasmic Sperm Injection (ICSI)
Intra-Uterine Incemination (IUI)
Ovulation Induction
Savior Sibling Program (SSP)
Sperm donation
Implantation Optimisation
Analysis of infectious chronic endometritis (ALICE)
Endometrial microbiome metagenomic analysis (EMMA)
Endometrial Receptivity Analysis (ERA)
Preimplantation Genetic Testings (PGT)
PGT-A - Preimplantation Genetic Testing For Aneuploidies
PGT-HLA TYPING - Preimplantation Genetic Testing For Human Leukocyte Antigen
PGT-M - Preimplantation Genetic Testing For Monogenic Diseases
PGT-SR - Preimplantation Genetic Testing For Chromosomal Structural Rearrangement
Others
4D ultrasound screening
Artificial intelligence-enhanced embryo selection
Egg freezing
Embryo freezing and Cryo-Storage®
Hysteroscopic Surgery
MicroSort® X&Y sperm sorting
Ova-PRP - Ovarian Rejuvenation
Price List
Smart IVF Plus - RM25,000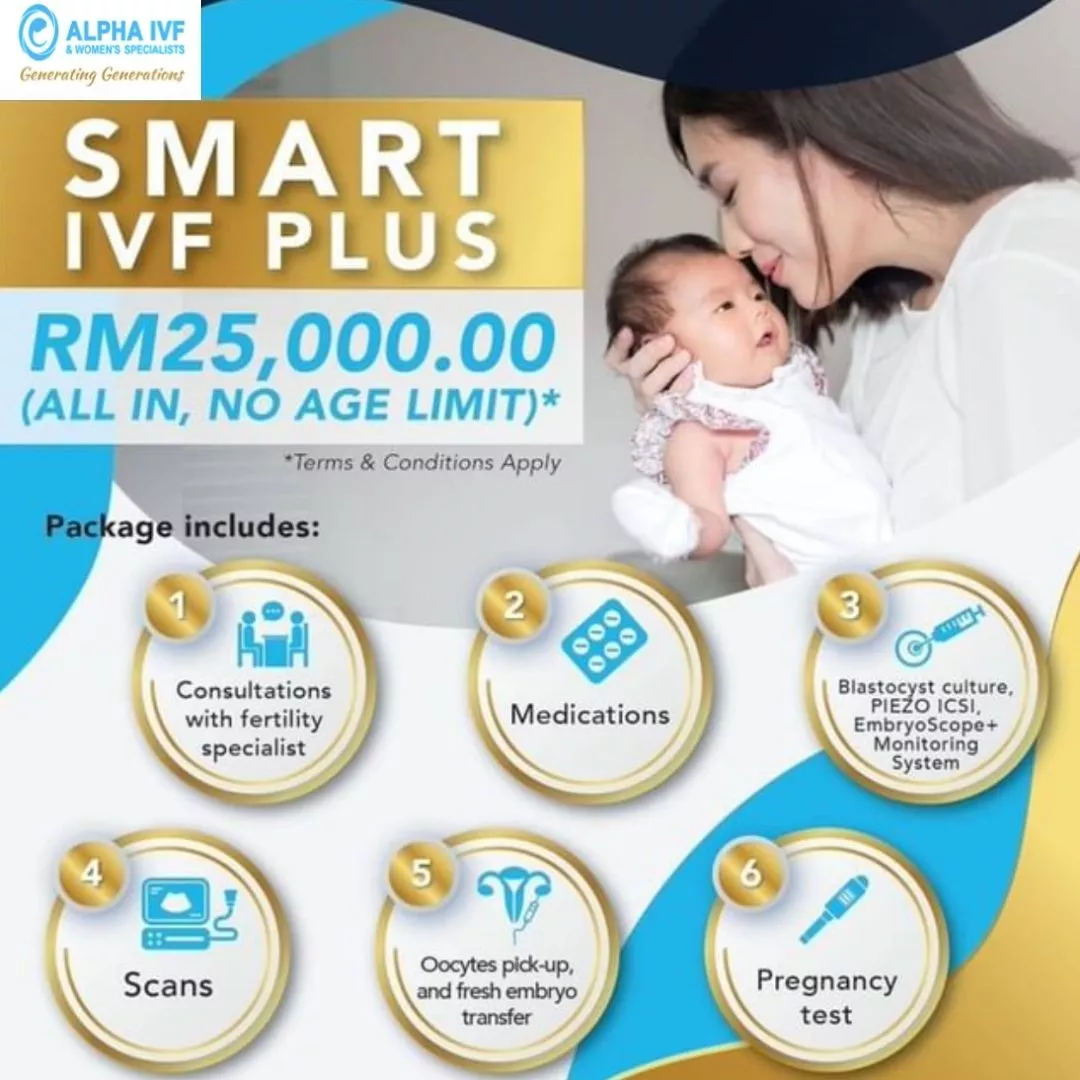 Doctors
Dato' Dr Colin Lee Soon Soo
Address
Alpha IVF & Women's Specialists / Alpha Fertility Centre G01, Ground Floor, Encorp Strand Mall, Jalan PJU 5/22, Kota Damansara, 47810 Petaling Jaya, Selangor.
Business hour
Monday
08:00 AM - 07:00 PM
Tuesday
08:00 AM - 07:00 PM
Wednesday
08:00 AM - 07:00 PM
Thursday
08:00 AM - 07:00 PM
Friday
08:00 AM - 07:00 PM
Saturday
08:00 AM - 03:00 PM
Sunday
Book A Consultation